Tirana is the capital of Albania and the largest city in the country. Located in the Northern Plain, Tirana is a modern and vibrant city offering a wide range of tourist, cultural and recreational attractions.
Tirana's history is long and rich, with the first traces of human settlement dating back to the Neolithic period. The city has been ruled by many cultures over the centuries, including Romans, Byzantines, Normans and Ottomans. During the communist period, Tirana became a closed and heavily controlled city, but after the fall of the regime in 1992, the city began to change rapidly, becoming a popular tourist destination.
The historic centre of Tirana is the ideal place to start discovering the city. The Scanderbeg Square is the heart of the city and is surrounded by some of the most important historical buildings, including the Orthodox Cathedral, Et'hem Bey Mosque and the Government Palace. The square is also the ideal place to enjoy the city atmosphere, with its outdoor cafes and entertainment activities.
La St John's Orthodox Church is another important tourist attraction in the old town. Built in 1789, the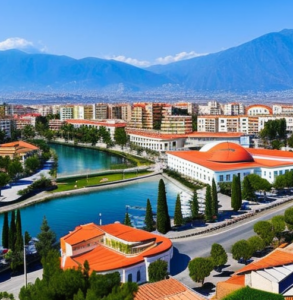 church was recently restored and now houses a collection of sacred icons. The Et'hem Bey Mosque is another historical building of great importance, built in 1821 and considered an example of Ottoman architecture in Albania.
The new city of Tirana is a great place for shopping and nightlife lovers. The main street, Blloku Street, is full of trendy shops, cafés and restaurants. Skanderbeg Square is also a great place to have a drink or a coffee in one of the many outdoor bars and cafés.
The National Museum of Tirana is another important tourist attraction in the city. The museum houses an extensive collection of Albanian art, including paintings, sculptures and archaeological finds. The Museum of the History of Albania is another attraction worth visiting, with an extensive collection of objects and documents documenting the country's history.